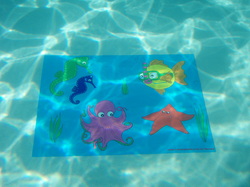 The
Underwater Puzzle
is a swimming and diving pool toy. It consists of 12 interlocking pieces, specifically designed for assembling on the floor of a swimming pool or bath tub. The completed puzzle is 18" X 24". It was developed by Garrett Beach Towne. He conceived this idea as a 3 year old when he asked if he could take his favorite cardboard jigsaw puzzle in the pool and put it together on the bottom.
Simple and straightforward. The user spreads the pieces of the puzzle on the surface at the edge of the pool. After deciding which pieces to start with, the user then grabs a handful and dives to the bottom of the pool, assembling the pieces on the bottom of the pool to create a picture. Repeat this process until the puzzle is completely assembled. When finished swimming, simply return the pieces of the
Underwater Puzzle
to its mesh backpack and store away until the next pool outing.
​
Ideal for children, the
Underwater Puzzle
can be enjoyed by parents and caregivers, helping to promote adult-child interaction and camaraderie.
The
Underwater Puzzle
provides a pool activity that can be enjoyed for many summers to come. It works well in both shallow and deep water.
The Underwater Puzzle was developed at the
New York Athletic Club
. It was tested at the
Badger Sports Camp
in Larchmont, NY and Imagine Swimming in New York City. The
Underwater Puzzle
has been used worldwide in bathtubs, for swimming fun (in both shallow splash pools and deep water), for swim instruction and for scuba diving instruction.
Garrett attends the
Hackley School
in Tarrytown, NY. He swims competitively for the
Badger Swim Club
and the
New York Athletic Club
. Garrett is a 2017 USA Swimming Academic All-American, a 2017/2018 NISCA All American in the 100 Backstroke (49.19) and the 1/21/18 Westchester County, NY Con Edison Scholar Athlete of the week award winner. He also enjoys playing water polo, juggling and solving puzzles.
---